Lesser K

no

wn F

acts

About 'Ra

mayana'

You Must Kn

ow
From the LYF desk
Ramayana is an ancient Indian epic and one of the greatest Hindu epics of Indian mythology is full of facts and incidences. Some are commonly known facts while some are lesser known facts.
Ramayana actually narrates the struggle of Lord Sri Rama to save her wife goddess Sita from the demon Ravana.
Though the story revolves around divine Rama but if you dive deep into the incidents of the epic, you will find deeper meaning of those episodes in the present time.
Ramayana does not only teach us the religion or bhakti(worshipping), it literally also teaches us deep about relationship, family dharma, society, self realization and of course politics too.
Series of incidents of Ramayana, offers lifelong 'life lessons' too.
Have a look at the 'lesser known' facts about Ramayana…!
Ravana,
Kumbhkaran Was The Incarnation Of Lord

Vishnu's Door Keeper
You might be surprised to know that demon Ravana and his brother Kumbhkarna was the incarnation of Lord Vishnu's door keeper Jaya and Vijaya.
It is said that once Lord Vishnu was resting in Vaikuntha, the abode of Vishunu. Four sons of Vishnu came to see him.  Jaya, Vijaya stopped them on the gate citing that Vishnu is resting. On this four sons turned furious, and cursed them that they would have to forgo divinity and they would be born on earth.
When both Jaya, Vijaya bespoke before Vishnu to lift the curse, Vishnu categorically told them that curse cannot be lifted but he can give them two options  to take birth on earth.
First option was taking birth as his (Vishnu) devotees for seven life cycles or taking birth as his enemy for three births. Both chose to be enemy for three births as they did not want to stay from Vishnu for seven years.
Vibhishan Solemnize
Marriage With Ravana's Wife Mandodri

After Rama Killed Ravana
Yes, its' true tale of epic Ramayana. After Rama killed Ravana in a battle ground, divine Prince had urged Vibhishan to marry Mandodri. As per the rule, whosoever will be conferred the kingdom of Ravana, had to marry the queen, so the Vibhishan did. It is though said to be a marriage of diplomacy.
Lakshman's Wife S
lept For 14 Years, In

 The Exile Period To Keep Her Husband Awake
You might be wondering to know that when Lakshman went on 14 years of banishment with his brother Rama, Lakshman's wife Urmila had slept for 14 years. Laxman had approached the goddess of sleep, 'Nindra' and sought a boon to forgo his sleep for 14 years of exile period.
On this, goddess asked Laxman that in his place, someone else have to sleep on his behalf to create balance and on this, Laxman took name of his wife. Goddess then approached Urmilla and asked if she would sleep for 14 years on his husband's behalf, Urmilla gladly agreed.
It is said that Meghnath, the son Ravana, would never have been killed as he was granted boon that he could be killed by Gudakesh : the one who defeated sleep, and Lakshman who shun sleep killed him .
Rama killed
Bali From Behind, Bali's

 Wife Cursed Rama
Do you know that when Rama killed Bali from behind by shooting a arrow, Bali's wife Tara on coming to know is said to have cursed Lord Rama that he would also lose his wife Sita soon after retrieving her, and yes it happened, Sita was consumed by earth.
Imitating Sita,
Hanuman Applied Vermillion On His

 Entire Body For Rama's Long Life
It is said that once Hanuman saw goddess Sita applying Vermillion (sindoor) on her hair, and he asked Sita the reason of applying the same at the partition of the hair.
Then Sita told Hanuman that wives apply vermillion for the long life of their husbands, so she does for Lord Rama. Later Hanuman smeared his entire body with vermillion, also called kumkum for the long life of Rama.
Due to this, Hanuman body completely turned orange( which also means Bajrang) and he was named as 'Bajrangbail'.
Ravan's brother A
hiravan Kidnapped R

ama-Lakshman
Yes it is true that Rama's greatest devotee Hanuman once assumed the rare form, Panch Mukti Hanumna to kill Ravan's brother Ahiravan who had kidnapped Rama and Lakshman and had taken them to the Patalok (underworld).
Hanuman assumed the form because the only way to kill Ahiravan was to extinguish five lamps in five different directions. Here Hanuman's other unknown four faces were shown including Hayagriva, Varaha, Narsimha, and Garuda.
Hanuma
n Had A Son, M

akardhwaja…!
Most of us might be unaware of the fact that lord Hanuman had a son named Makardhwaja.
What actually happened was, when Hanuman was returning after setting Lanka on fire, on the way, he took a dip in the sea to cool down his burning tail when drop of his perspiration fell on the mouth of the mighty sea creature, also called Makkara, which gave birth to 'Makardhwaja'.
There was also a belief that while Hanuman was taking bath in the sea, seed of Hanuman got discharged due to extreme heat, which fell in the mouth of giant sea creature.
When that giant creature was caught by Ahiravana, and stomach of the same was cut open, Makadhwaja was born. Ahiravana was impressed with the valiant and bravery of Makardwaja so gave him a job of guard at his patalok(underworld).
Interestingly Hanuman also met his son when he went to save Rama and Lakshman from patalok, he had defeated his son to save Rama and Lakshman. Makardhwaja was later installed as king of patalok by Hanuman on Rama's advice.
Ravana Performed 'Yagya' A
s A Great Brahmin On Rama's Invite, Wished

 Him 'Tathastu' A Success In Battle
It is quite interesting fact of the epic that an inordinate scholar and Maha Brahmin Ravana, the king of Lanka himself, brought Sita to perform yagya, on the invitation of Rama who along with his army was heading towards Lanka for a battle with Ravana.
It is said when Rama along with his vanarsena (army of monkeys) was to build a bridge, latter known as Ram Setu, on the sea to reach Sri Lanka to fight with Ravana, Before the army of monkeys could start building a bridge, Rama had a vision of Lord Shiva, who directed him to perform yagya before proceedings further.
Now to perform auspicious yagya, presence of highly Brahmin required and even the presence of Sita 'his wife' also required as her sitting besides Rama was must. There could be no superior Brahmin than Ravana himself.
Rama had then politely invited Ravana, the scholar and the earnest devotee of Lord Shiva to perform Yagya.
Ravana had then brought Sita and also perform yagya as a superior Brahmin and devotee of Lord Shiva.  Interestingly on the completion of yagya, Rama had asked Ravana to give him blessing that he could defeat him (Ravana) in the battle and could rescue his wife Sita from his clutches.
It is said that Ravana had then enchanted, 'Tathastu'(be is so or wish granted ). So with this worship, Rameshwaram became the holy place where Lord Rama, his wife goddess Sita and Ravana together worshiped Lord Shiva.
'Being Human'is not suffice,  it's time to re-learn 'Humanity'from animals
Rama's Promise L
ed  To The Death Of His Brother

Lakshman
When goddess Sita was sucked in by earth, lord Rama decided to end his life as well. He then called Yam and to keep the meeting secret, he asked brother Lakshman to stay guarded so that no one could intercept his meeting with Yam.
Yam had then put forth a condition that if anyone intercepted their meeting, he/she would be killed. Lakshman entered the meeting room and intercepted the meeting. Before Ram could kill Lakshman, Lakshman himself went to Saryu river and ended up his life.
Since Rama was incarnation of Vishnu and Lakshman was the incarnation of Sheshnaag on whom Vishnu rests, so he had to return first to Vaikunth the abode of Vishnu(who was Lord Rama).
Lord Krishna Death In
Mahabharta..! Bali Of Ramanyana

 Was The Reason
Did you know that when Lord Ram had killed Bali, then Bali had termed attack on him as a betrayal and he asked Ram that he should have invited him for fight rather than attacking from behind.
Then Rama had promised Bali that he would became reason of Lord Krishna (incarnation of Lord Vishnu) death and he could then take revenge. It is learnt that Bali had reborn as hunter in Dwapar Yug and he killed Lord Krishna.
Lord Shiva Bull
'Nandi' Had Also

 Cursed Ravana
Do you that bull of lord Shiva, Nandi had once cursed the Ravana that monkeys would become the reason of destruction of his kingdom and yes Lanka was burnt by Lord Hanuman and vanar sena(monkeys) destroyed the Lanka.
It is also learnt that once Ravana had gone to Kailash mountains to meet Lord Shiva where he ridiculed Nandi, and enraged over the behavior of Ravana, Nandi had then cursed the Ravana that monkeys will become reason of his death.
Ravana's Sister
Shurpnakha Curse Too Became The

 Reason Of Lanka's King Death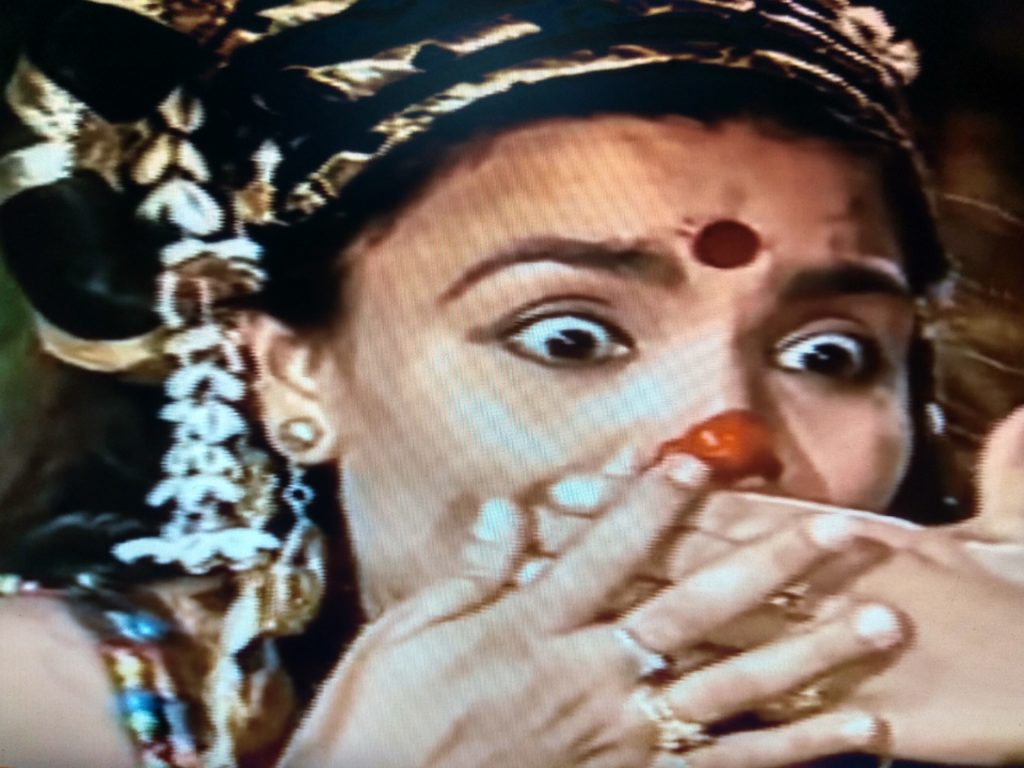 This is how Karma runs with throughout with our life circle. When Ravana killed husband of his sister Shurpnakha Vidyutjinn while desiring to conquer the world, Shurpnakha had turned furious and cursed Ravana that woman will become the reason of his death. Series of curse not stopped here, once Ravana had also lifted the Kailash mountain along with the Lord Shiva but goddess Parvatti turned angry and cursed Ravana that women will be the reason of his death.
Its, true, Demon
Ravana Snatched Lanka From The God

 Of Wealth Kuber
It is said that Kuber was half brother of Ravana. He and Ravana;s father Vishrava got Lanka from Shiva as a offering. When Ravana gained power, and boons from Brahma and Shiv, he asked Kuber to give Lanka to him, but Kuber refused. Then Ravana fought with Kuber and won the battle and usurped the Lanka.
Lakshman Who Was Y
ounger To Rama, Became Elder I

n Next Incarnation
It is very interesting fact about brotherhood that Lakshan always used to say that since he is younger to Rama, he has to obey all the orders of his elder brother Rama, and he once wished that in next birth, he wanted to be the elder brother of Rama.
Yes, it happened, when Lord Vishnu incarnated as Krishana while Sesh Naag was incarnated as Balram, the elder brother of Krishana.
https://loveyoufamily.com/cartoons-characters-are-full-of-inspiration-can-find-a-good-human-out-of-you/
Why
Ravana Did Not Ill

-Treat Goddess Sita
It is the established fact in the Ramayana that Ravana was fond of women and he used to get woman by all means whom he desires to get.
Once celestial dancer Ramba, also an apsara(angel) was intercepted by Ravana in heaven and Ravana asked her to fulfill her lust. Ramba beseeched before Ravana on the plea that she would soon be wife of his elder brother (Ravana) Kuber's son Nalkuber, so in relation she is his daughter in law. Ravana did not budge.
On coming to know about Ravana's ill will, Nalkuber cursed the demon that if in future he ever tries to touch a woman, his head will burst into 100 pieces. This is why Ravana did not mistreat Sita.
Note that this is an informational story and it is not intended to hurt the sentiments. It is also not questioning the ideals of any religion, caste, creed, sect, community or person. Information has been gathered from various reliable sources having information about Ramayana and its incidences.WWW. LoveYouFamily.COM blog respects the all versions of Ramayana, and its authors. Thanks You.
Pix Credit :  Taken from Ramayana scenes…!
EOM